Events Calendar

PONY DAYS RUNNING
THROUGHOUT THE SUMMER!
Wednesdays
20th and 27th

All days run from 10:30 - 3:30

Bookings confirmed by £45 payment
in advance or, if places
available, £50 on the day
WE WILL ALSO BE HOLDING
A PONY CLUB RALLY!
Friday 29th August
This runs from 2:00 - 3:30
and the cost is £10
For more information, and to book,
please contact Jakki.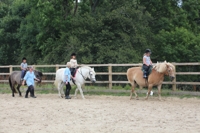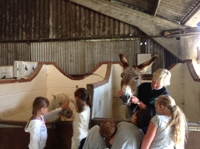 Welcome
Beechwood is situated in the beautiful Surrey Hills in the North Downs; an area of outstanding natural beauty. We have our own farmland and woodland available to ride on and also extensive woodland bridleways allowing our riders plenty of off-road hacking. We have two international size all-weather menages, a grass school, a large jumping paddock with a full set of showjumps, a working equitation course, cross-country jumps and an indoor school.
All the horses and ponies used in the school have been chosen carefully for their suitable temperament and are trained to complement Beechwood's philosophy of teaching classical equitation where, above all else, we are hoping to achieve a happy, harmonious relationship between horse and rider resulting in every rider reaching their own personal goal at whatever level that may be.

Please feel free to browse our site and don't hesitate to get in contact for further information on any of our services.
News
We held our adult 3-day horse course last week and this proved a great success. It gave riders the opportunity to 'own a horse' for three days. Instead of just coming along and riding for an hour, or maybe two, they were able to build up a real rapport with their horse.

After their mounts had been fed and watered, the horses were groomed and tacked up. This was followed by a lesson. It gave the riders an insight into the welfare of the horse and what is involved when owning an equine.

They had lots of fun discussing various aspects of horse care, breeds, tack, make and shape over a glass of wine at lunchtime.

After lunch, the team rode again and finished off by untacking, grooming and putting the horses back out into the field. The participants then mucked out their stables and all, without exception, said how much they had enjoyed the three days but also added how exhausted they had been at the end of each day!

Susan, Allie and Emma all passed the BHS Progressive Test 1.

All are also keen in participate in another course, working towards the ABRS Progressive Rider Tests.

In the middle of the week, we also had another Pony Day and this was again enjoyed by some 12 children, many of whom had been on the previous Pony Days, and had returned for more fun and pony experience.

Photo Gallery